Introducing the Fellowes Four Zone Approach® for a healthier, happier workforce
Fellowes Four Zones breaks down the office workstation into manageable chunks, systematically solving issues that may prevent teams from operating at their best.
Foot supports are designed to improve ergonomic positioning; supporting resting feet in the correct position keeps muscles relaxed and minimises cramping while improving circulation and blood flow.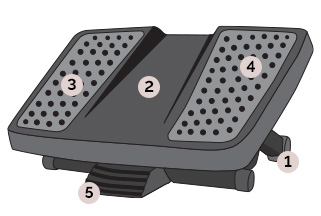 1. Adjustable Height
Configures the foot support to achieve optimal ergonomic positioning; removing the pressure on the legs and lower back by correctly angling the feet and improving seated posture.

2. Rocking Motion
Provides a free-floating platform that encourages subtle movement in the feet for increased blood flow and relaxation over long periods.

3. Massage Surface
Designed to relieve stress and rejuvenate tired feet.

4. Non-Slip
Surface supports the user's feet, removing further pressure from the legs.

5. Foot Adjustable
Foot rests can be adjusted by foot movement rather than leaning down to adjust, avoiding further stress on the back.
Back supports are designed to help eliminate aches and improve back posture by ensuring the spine is correctly aligned when in a seated position.
1. Support Types
Back supports are available as either Full Back or Lumbar variants. The type selected will depend on the body type of the user and the chair they are using.

2. Attachment Types
Back supports come with an elasticated or adjustable strap that allows users to set the tension and fit the support to most chairs.

3. Material Type
The fabric is typically foam, which moulds to the shape of the user for further support, or mesh, which promotes airflow and may be preferred in warmer working environments.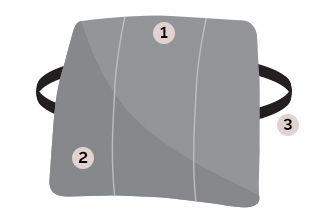 Wrist supports can help ensure your wrists stay in a neutral posture between typing and using a mouse, by resting the palm of your hand on them.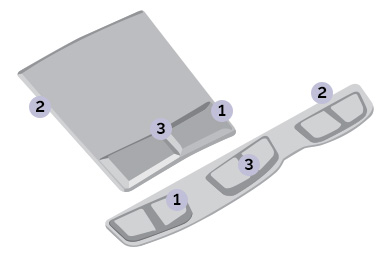 1. Material Type
Avoid hard contact with the desk with a wrist support. Available in Fabric for a softer rest, or Gel for a firmer support while being easier to clean.

2. Non-Skid
Ensures that the support/pad does not slip on the work surface.

3. Health-V™ Options
Some supports will have the option of Health-V™ Channel that has been designed to help combat the risk of carpal tunnel syndrome by reducing the likelihood of pressure on the median nerve.


Monitor arms free up valuable desk space and enable you to effortlessly move your screen to the correct ergonomic height. Ideal for screen sharing or where one desk is used by multiple users.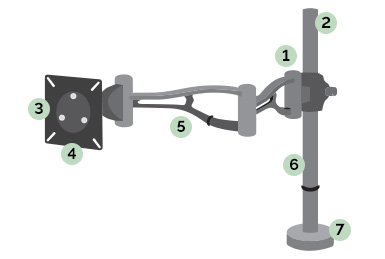 1. Type
Available as Pole or Gas Spring. Pole arms provide height adjustment and an arm that pivots, whereas Gas Spring can provide full motion movement.

2. Maximum Height
Arms have a maximum height they can be raised to, ensuring the monitor is ergonomically positioned.

3. VESA Fitting
Also known as the Mounting Interface Standard (MIS, VESA is a universal standard for mounting flat panel and other visual display equipment. To avoid fixing issues, both the monitor arm and monitor should be VESA compliant.

4. Maximum Screen Size and Load Capacity
A monitor arm can support up to a specific screen size without being detrimental to usability. With dual arms, following this guidance prevents monitors from overlapping.

5. Maximum Reach
The extension of the arm should be set at the correct ergonomic depth for the user to ensure comfortable viewing and avoid eye fatigue.
6. Cable Management
Integrated clips that allow cables to be organised and kept tidy.
7. Desk Fitting
Monitor Arms are either C-Clamp, Grommet, Through Desk or Free Standing. It's important to consider desk type and fixing method when selecting a model.
Monitor supports enable users to position the screen in-line with their eyes, therefore reducing neck, back and shoulder pain while using a computer.
1. Height Adjustable
Height adjustable risers allow the user to optimise their viewing position.

2. Maximum Weight
All risers will have a maximum weight which they can support.

3. Cable Management
To help keep desks tidy and clutter free, specific risers may have built in cable management.

4. Storage Shelf/Tray
An additional feature on some models, helping the user organise their desktop accessories or workload.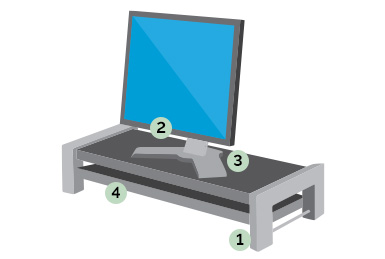 Laptop Supports elevate the laptop screen to eye level and natural line of sight, therefore reducing neck, back and shoulder pain.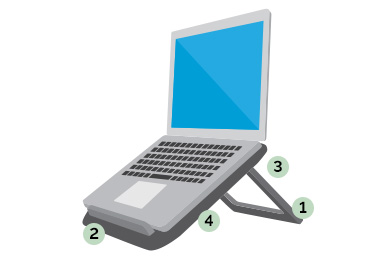 1. Adjustable Angles
Allow the support to be ergonomically positioned for optimal viewing, ideally this should be eye level with the top of the screen.

2. Supporting Ledge
A feature at the front of some laptop supports that provide additional stability.

3. Foldable
Frequent traveller? As more of us work on the go, a foldable support allows for a mobile ergonomic set up.

4. Circulation
Some models are designed to ensure there is sufficient air flow to the base of the laptop, preventing overheating.


Document Supports help unnecessary twisting of the neck, reducing the likelihood of long term neck and spinal injury. The user can read and type at a comfortable level.
1. Sheet Capacity
The maximum number of sheets that can be secured by the document holder.

2. Line Guides
Helps with concentration and being able to work more efficiently by directing the eye to the key information.

3. Angle Adjustment
Enables the user to set the angle of the copy holder for their preferred ergonomic positioning.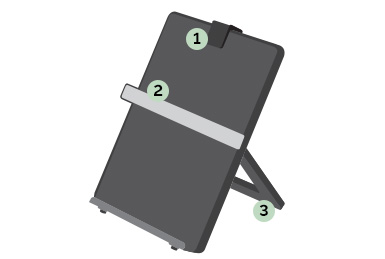 The Lotus™ range of sit-stand desk dolutions effortlessly transform your desk into a dynamic workspace, so you can remain active at work.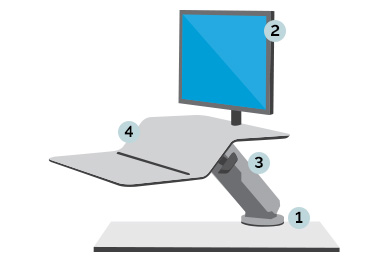 1. Desk Attachment Type
Desk converters can either be freestanding or clamped to the back of a desk.

2. Adjustment Range
Vertical adjustment or flexible TriMotion™ (180° rotation at the base, 90° vertical adjustment, 180° worksurface rotation).

3. Cable Management
Integrated cable management keeps the workspace tidy and clutter free.

4. Waterfall Design
The waterfall desktop design with device channel, creates more space for increased productivity.